Touring: Ecole Militaire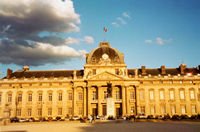 Near Les Invalides is the Ecole Militaire, the prestigious royal military academy founded by Louis XV in 1751.
The aim of the academy was to turn gentlemen without means into sound military officers.
Napoleon Bonaparte attended the cole Militaire in 1784 and upon his graduation joined an artillery regiment.
If you are touring New Zealand then check out TikiTouring for tours and accommodation deals.