Prussian Cavalry
Since the times of Frederick the Great, Prussia's cavalry had a reputation that struck awe, if not fear, into its enemies. The French were wary of Prussia's horsemen at the outset of the 1806 Campaign, but the reality was that their prowess had been allowed to stagnate. Only in the late stages of the Napoleonic Wars did Berlin's cavalry approach the effectiveness of its halcyon days.
Cuirassier Facings
Hussar Facings
Dragoon Facings
Cavalry Weapons
Cuirassiers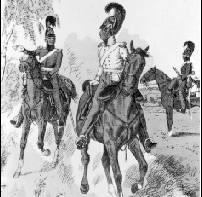 Despite the name, Prussia's cuirassiers had not worn the heavy breastplates since 1790 and would not do so until 1814-1815.
The main use for cuirassiers was as heavy battle cavalry that could be thrown at the enemy to smash formations or achieve the decisive breakthough.
Dragoons
Like the cuirassiers, the dragoons were the heavies of the battlefield and would try to use their weight of horse and speed to fracture enemy formations.
Prussian dragoons achieved some success at the debacle of Auerstadt when the Irwing Dragoons scattered some of General Gudin's experienced infantry out of formation and left some 600 men casualties.
Hussars
These units were not regarded as being strong enough to be used in the line of battle, so hussars were often used to seek out ways to launch attacks on the enemy flanks.
Often hussars would advance on either side, or behind, the cuirassiers and dragoons, and would then peel off to probe the flanks and rear.