LINE of FIRE DOCUMENTARIES
Cambrai 1917:
The Trial of Tanks
Cromwell Productions
(2001)
49 minutes
By Richard Moore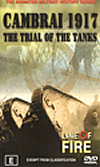 When you think of the name Cambrai what is conjured up? To my mind's eye it is a scene where in 1917 the British Mark I tanks roll into battle in great numbers for the first time.
It is also one of victory, where the Germans were so overwhelmed by the power of the fearsome weapons they surrendered in droves and opened the way to ending World War One.
Well, like many historical views, it is only partly correct.
It is true that Cambrai was a decisive victory for the British and did involve mass tanks, however, that was only on day one.
After that the Germans had a really red-hot go at seizing back the territory they had lost and managed their own one-day victory. Pretty much, Cambrai was yet another draw.
The whole picture of the battle and its importance in military affairs is covered by Cromwell Productions in another of its excellent Line of Fire series, Cambrai 1917 The Trial of Tanks.
In the 49-minute episode Cromwell's experts examine the tanks of the day, their strengths and weaknesses and how they affected the hitherto static nature of warfare in WWI.
The British objectives in trying to break through the Hindenburg Line are detailed, along with the errors that hamstrung the attack when it was on the verge of a significant victory.
Almost 500 British tanks launched the attack and they helped punch a large hole into the German defences, proving there was a big future for the armoured monsters on battlefields.
However, mixed infantry support left them exposed and if artillery didn't get them then mechanical failure did.
One thing that absolutely gobsmacked me was that the Germans organized patrols to actually stalk these tanks and cripple them with bags of grenades exploded under their tracks.
If you are into the history of tank warfare, Great War history or just military history in general then Cambrai 1917 The Trial of Tanks is a terrific and informative title to look at.
85%