DOCUMENTARIES
The Napoleonic Wars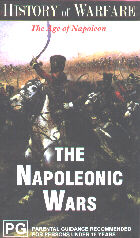 If you are out searching for a good introduction to the Napoleonic Era then this video from Cromwell Productions will fit the bill nicely.
In 50 minutes it presents an overview of the exciting period of Napoleon Bonaparte, his rise and subsequent fall through a nice mixture of historic images, graphics, re-enactment and film footage and interviews with experts.
They are Sandhurst's Niall Barr, John Tincey and the doyen of Napoleonic historians, David Chandler.
However, given the limited time available - only 50 minutes - some major campaigns are left out or only briefly mentioned. These include the revolutionary wars, the Peninsula, the 1813 liberation of Germany and the 1814 defence of France.
The initial part of The Napoleonic Wars looks at Bonaparte's skilful use of the chaos of revolution to rise quickly in the army to a position of power and his realisation from an early time that his would be a life of warfare.
He also knew his main enemy would be the hated British who had foiled him in Egypt and destroyed his fleet at Aboukir Bay.
The Austerlitz campaign is looked at in detail, with nice easy-to-follow graphics that show what happened well, and you get a good description of the French army's organisation and why it worked so well.
Bonaparte's 1812 invasion of Russia is another key ingredient to the video's information mix - and has good coverage of the battle of Borodino and explains why the lengthy French stay in a deserted and burning Moscow was a fatal mistake.
Almost half of The Napoleonic Wars is dedicated to the 100 Days' Campaign and the battle of Waterloo. This section has very good re-enactment footage and is a welcome departure from the usual War and Peace stock.
The Napoleonic Wars is a good introduction to the period and certainly will be a boon for teachers wanting to give classes a short, bite-sized sample of the era. It is, however, only an appetiser and some people may find they need something more substantial.
75%