DOCUMENTARIES
Waterloo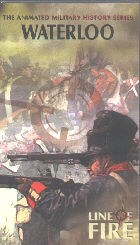 One of the best documentaries on the battle of Waterloo that I have seen is the one associated with the Line of Fire series from Cromwell Productions.
It's only 50 minutes long, but you will be shown almost everything you need to know about the history-deciding clash between a resurgent Napoleon Bonaparte, and his enemies the Duke of Wellington and Marshal Blucher.
From the planning of the campaign right through until the second exile of the former French emperor to St Helena, Waterloo explains it all in an excellent, understandable way.
The programme is well illustrated with a terrific use of images - paintings, engravings, film footage, cartoons, re-enactments - as well as some seriously innovative 3D animations.
Not only do these get used to show the grand strategy of the 100 Days' Campaign, but also to have you advancing with the French against the British positions.
In addition you get to view the battlefield as the opposing leaders would have - something I have not seen done in a documentary before - and watch the trajectory of a cannonball, as well as seeing an animation of a flintlock musket firing.
Another nice animated touch is the regular Site Report, which illustrates various stages of the great battle.
Now not only does the Line of Fire programme contain excellent graphics and images, but it has lined up a very impressive list of Napoleonic experts -David Chandler, Bob Carruthers, Ian Fletcher, Niall Barr, Duncan Anderson and John Tincey - and has used them brilliantly.
This is no waffle club, as the editing has one saying something, then immediately going on to another, to another, to another.
All the comments from these guys are interesting and give a marvellous insight into why things were happening, the effects of various decisions and just how close the end result actually was.
And that is where this documentary is an absolute winner, it will tell you all you need in an absorbing way.
If you are a history teacher wanting to get a bit of enthusiasm going among your pupils, or an enthusiast who just can't get enough information on the Napoleonic Era, then Line of Fire: Waterloo is a must.
90%