DVDs
The Duellists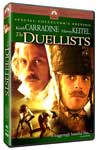 The Duellists is one of this chap's favourite movies and its artistic success is built on a terrific story, exemplary period details and costumes, as well as having some of the most wonderful cinematography ever put on to film.
It follows two French Napoleonic cavalry officers - mild-mannered Armand D'Hubert (Keith Carradine) and the quarrelsome Gabriel Ferraud (Harvey Keitel) - throughout a 16-year series of duels.
They are lieutenants when the movie begins and generals of brigade at its close, but their personalities and fortunes differ widely as they serve Napoleon Bonaparte.
The intitial duel occurs because D'Hubert informs Ferraud he must face the general for skewering a relative of the mayor of the town they are billeted in.
After that it's on for young and old every time the pair meet and the fights themselves are something to behold. They really are excellently staged and the guys look like they are going at it full bore.
The superb sound - which counterpoints a sublime flute-dominated soundtrack with the ringing harshness of blade on blade - will woo you as much as the beautiful images in front of your eyes.
The only way for D'Hubert, who fights for duty rather than for ill feeling, can avoid personal combat is if he stays away from Ferraud, is of a different rank, or the army is at war.
Unfortunately for him, but luckily for film buffs, that doesn't happen too often.
Carradine is at his most charming as D'Hubert, although Keitel's bitter and fiery Ferraud is likely to be the character most remembered.
They both are sensational and are backed-up by a wonderful support cast that includes Tom Conti, Alun Armstrong, John McEnery, and Diana Quick. Albert Finney does a fine cameo of Fouche, the arch-survivor, and watch out for Pete Postlethwaite (who is mentioned in the credits - but I missed during the viewing).
It is hard to know where to fault this movie - after all it did win an award at Cannes - other than to say that it doesn't go for long enough at 96 minutes.
The video transfer is excellent - with superbly toned colours - although there are a few artefacts.
In a word - stunning.
90%