DVDs
That Hamilton Woman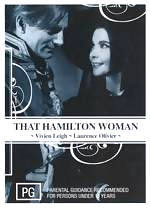 By Richard Moore
This is an interesting yarn about a society floozie, her besotted husband and a dashing lover.
The floozie is Emma Hamilton (Vivien Leigh), the cuckolded chap is Sir William Hamilton (Alan Mowbray) and the lover is none other than Britain's naval hero and first popular star and pin-up boy Admiral Sir Horatio Nelson (Laurence Olivier).
Set during the Revolutionary and Napoleonic Wars, That Hamilton Woman looks at the romance between the lovers that shocked a nation.
For by the time their affair was made public, Nelson was so great a hero he could do no wrong - at least to the British public - and while many may have cocked an eyebrow at his discretion, his popularity never waned.
However, it was different for the social climbing Emma and her tale is a moving one.
Leigh is stunningly effective as the determined heroine/anti-heroine and it is hard to think of a role where she betters this performance.
As the young Emma she is all ambition and energy, but even more impressive is her as the ageing exile languishing in France after being spurned by the British following Nelson's death.
Olivier is better-than-expected as Nelson and the obvious chemistry between he and his real-life wife sparkles.
That Hamilton Woman has a marvellous video transfer - almost pristine black and white - although the sound has a bit of volume problem and seems to be set too low.
Conclusion:
Movie: 80%
DVD Extras: 20%