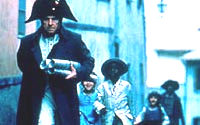 June will see the release of The Emperor's New Clothes, a romantic comedy that follows Napoleon Bonaparte's secret return to France from his final exile on St Helena.
The film, which is not based upon the fairytale but rather the very interesting and readable short book The Death of Napoleon by Simon Leys, stars Ian Holm as Napoleon Bonaparte.
Having left a look-alike in his place of exile - let's hope they get it right and don't have him on Elba - Bonaparte travels back to Europe via Belgium and goes from Antwerp to the new Paris.
Not only does he find France has changed in his absence, but he also falls in love with a widow (Iben Hjejle).
And just in case you are thinking that you've seen Ian Holm play Bonaparte before, you're right. You have - twice, in fact. The great British actor previously played him in the 1974 British mini-series Napoleon and Love, and in 1981's Time Bandits.