REVIEW
HORNBLOWER:
Duty
(2002)
100 minutes
PG
Rating: 90%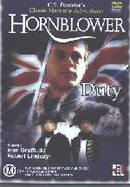 By Richard Moore
Now a Royal Navy commander, young Horatio Hornblower sets off on his eighth adventure aboard the Hotspur to once again dash Boney's plans for taking over the world.
However, before he can get his teeth stuck into the action he needs to tie the knot with the pleasant-but-boring Maria (Julie Sawalha).
We all know he doesn't really think it is the right thing to do, but you know our lad - he's made the promise and so he'll stick by it.
Anyway, after a traditional naval wedding he's off to the hotel and then is out on the morning tide.
His task in Duty is to find his old comrade Lt Bracegirdle, now a captain, who has gone missing off the French coast. They find his vessel, the Grasshopper, run aground and, despite some hairy moments with French infantry, manage to rescue him.
Bracegirdle suspects the French are up to something sneaky - like preparing an invasion of Britain - but was unable to get close enough to get some proof.
A storm causes havoc and while riding it out the crew of the Hotspur rescue a dinghy with an American woman and her Swiss husband.
Of course anyone who knows a little about French history at the time will know who the lady and gent are, but we are kept in suspense.
The chap is of such importance that no-one wants him - neither Britain nor France, unless he lands without his wife.
This places Hornblower and the Hotspur's crew in peril as the French seem desperate to get hold of him and the Irish traitor Wolfe (Lorcan Cranitch) gets to trade blows yet again with our Hori.
Once again this is a terrific yarn that all Hornblower fans will enjoy and it has more than enough mayhem, surprises and death for all to indulge in.