REVIEW
HORNBLOWER:
The Even Chance
(1998)
100 minutes
PG
Rating: 90%


By Richard Moore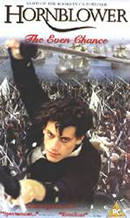 The first episode in the stirring adventures of Horatio Hornblower (Ioan Gruffudd), has the young midshipman introduced to the discomforts and brutalities of life at sea.
But it doesn't start well for our hero. Seasickness is a bit of a brute for landlubbers - let alone members of His Majesty's Navy.
Then there is the vicious and bullying senior midshipman Simpson, whose failures as a would-be officer turns his already dark nature black.
Fortunately for Hornblower, who is recovering from a savage beating at the hands of Simpson, fate has it that he transfer to the frigate Indefatigable, whose officers and captain are a decent - but no-nonsense lot.
Captain Sir Edward Pellew (Robert Lindsay) was a real life character who was equally as able as his screen portrayal. He takes a distant like to Hornblower and, while trying to teach him the difficult ways of command, ignores some of the young man's rashness.
Put in charge of a small prizeship filled with rice, Hornblower has to try to sail the leaking vessel back to England with a small crew that not only has to work the ship, but guard the French crew as well.
After a major misadventure - not of Hornblower's doing - the English manage to get back on board the Indefatigable in time to cut out (steal an enemy vessel while it is at anchor) a French frigate.
One of the cutting out party is his old nemesis Simpson, who tries to kill our lad during the battle.
Surviving, Hornblower takes over command of the captured vessel and gets Pellew out of a sticky situation against three French warships.
Praised for his courage, he then has to once more face Simpson in a beach-side duel.
As a made-for-TV movie, the production values of the Hornblower series are simply excellent. There are sailing ships aplenty, many locations and sets, and a host of accurate uniforms and weapons.
A comparison with the early Sharpe videos has Hornblower in the lead by about seven boat-lengths.
Both Gruffudd and Lindsay are terrific as the main characters and their support crews are also spot on.
The storylines are multi-layered and not only host plenty of action, but also lots of character-driven drama.
You don't need to be a nautical buff to get into this series, anyone who likes a good, quality yarn will enjoy it.
Full marks, our Horatio.