REVIEW
HORNBLOWER:
The Frogs & the Lobsters
(1999)
100 minutes
12+
Rating: 95%


By Richard Moore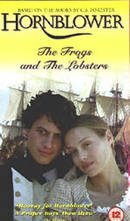 This is the episode of the series, so far. It has intrigue, romance and action - lots of action.
For history buffs, it drags Horatio Hornblower into the Quiberon expedition. For non-history buffs, it involves a plan by French emigres - royalists - and the British, to launch a rebellion in republican France.
It also forces honourable Horatio to try to be nice to a repugnant French marquis, who is returning to his home town to avenge the royalist cause upon its now very much happier inhabitants.
The nasty little brute - the Count de Moncoutant - is played brilliantly by Anthony Sher (what else would you expect) - and the little turd swaggers around as if his mob, the aristocrats, have a God-given right to rule. (Personally, I'd reckon that no chap under six foot should ever be given anything other than short shrift in the power game.)
To make his point, the marquis has his own personal guillotine!
Hmmmm, well to assist the Frogs (a pleasant description by the English for Frenchmen ... we'll not go into the others) the British have sent ashore a large infantry detachment and a naval contingent under Hornblower.
As you should expect, plans go awry - in this case missing - and, from the start, the expedition is endangered.
The only highlight, for Hornblower, is that he gets to meet this exquisite Frenchwoman (Estelle Skornik) who is quite one of the most beautiful actresses seen in a very long time.
The Frogs and the Lobsters will keep you on the edge of your seats with the action, plus the inter-personality feuds, raising your blood pressure.
Again the production values have excelled, with lots of studio money going on extras, sets and gunpowder.
This episode is an absolute ripper!