REVIEW
HORNBLOWER:
Mutiny/Retribution
Mutiny
(1998)
105 minutes
Retribution
(1998)
105 minutes
M15+

By Richard Moore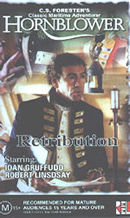 The fifth in the Hornblower series is a double-episode that has our Horatio (Ioan Gruffudd) facing the likelihood of swinging at the end of a rope.
How? You ask. Well, our favourite sailor has got himself involved in a mutiny that has seen a famous colleague of Nelson, Captain Sawyer (David Warner), having his command taken from him.
Sawyer is as mad as a cut snake but, under regulations, that doesn't mean he can't command a warship of 800-plus men.
So Hornblower and his fellow officers decide to take over and risk a courtmartial in Jamaica, rather than certain death under the deranged man's orders.
The tale is told in a series of flashbacks and is one of the most action-filled and fast-paced movies I've seen for quite a while.
Not only is there the bullying and mutiny on the vessel, but also the added drama of seemingly continual fights with the local Spanish. The attack on an enemy fort is exciting and bloodthirsty, as is a brutal hand-to-hand battle to control the British warship.
There are a number of first-rate actors in this episode - aside from the regulars - and they include Paul McGann as Lieutenant Bush, Nicholas Jones as Lieutenant Buckland and, of course, David Warner.
He is superb as the paranoid Sawyer and switches effortlessly between being a cruel commander, who is easy to loathe, and a former hero whose illness merits a great deal of sympathy.
Nicholas Jones also puts in a stirling performance as the dithering Lieutenant Buckland, a man who fears command.
One of the nasties on board is Hobbs (Philip Glenister), who disapproves of the "weak" new officers and their lack of loyalty towards his captain. His character may be flawed, but the acting is spot on and he almost steals the show from Warner.
Paul McGann plays Lieutenant Bush, an ambitious officer distrustful of the people on his new ship, but who eventually agrees to the right sort of action.
And action there is - by the bucketful. This is the most swashbuckling of the series to date and will have you hanging (er, poor choice of words) out to find out what happens.