Legion of Honour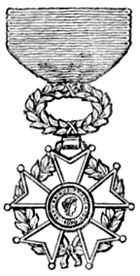 The Legion of Honour was an institution that was open to all men, although initially only Frenchmen, who had either acted bravely on the battlefield or had served civil France in some exemplary way.
It was created in 1802 by Napoleon Bonaparte as part of a reward system for good service and its inductees received the Legion's small white-enamelled cross, which hung on a red-silk ribbon, as a public show of gratitude.
Often the medal was presented by Bonaparte himself, although the more usual way for a soldier to get the coveted recognition was via his senior regimental officer who would be told the number of new legionnaires to be created and then picked the men himself.
Recipients earnt great respect from their peers, as well as financial pensions.
The Legion also ran a hospital for its members.
Some 48,000 men became part of the Legion, only 1200 of them civilians, but all were stipulated as being equals by Bonaparte.
By 1806 there were 13,000 surviving legionnaires, in 1807 foreign troops were made eligible and by 1814 the Legion had to cater for 25,000 living members.