Review
General de Brigade 2nd Edition
General de Brigade 2nd Edition rules review
Buy miniatures at auction on Ebay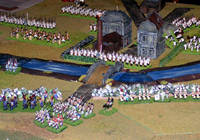 By Richard Moore
The Battle of Piave was chosen to wargame as it presented a good challenge for both the French/Italian player and the Austrians.
Piave was fought on May 8 1809 between the rearguard of Archduke John's Austrians and the army of Napoleon Bonaparte's stepson Eugene de Beauharnais.
It was Eugene's first truly independent command and he needed to do well, having botched a clash at Soave.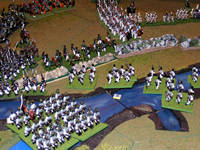 Piave presented him with a few difficulties - mainly due to the fast flowing Piave River, which flooded fords, prevented pontoon bridges being erected and forced Eugene to ferry his army across.
One of the reasons I liked this battle is that it resembles Aspern-Essling in that the advance French/Italian troops run the risk of being cut off by the river.
Piave was actually a reasonably easy victory for Eugene and in our scenario we wanted to allow the use of pontoon bridges (because we had just made a couple).
Here are some pictures of the early manouevres and fighting.
Picture 1
Picture 2
Picture 3
Picture 4
Picture 5
Picture 6