Review
Napoleon's Battles 2nd Edition
By Richard Moore
Reactions from Gamers to Napoleon's Battles
Send in your view on Napoleon's Battles 2nd Edition rules
Buy miniatures at auction on Ebay


The long-awaited second edition of the classic miniatures rules set Napoleon's Battles has arrived and you can guarantee there will be loud celebrations around many of the world's gaming communities.
In Napoleon's Battles action is at brigade level with an inch (2.5cm) of tabletop equal to 100 yards (just under 100 metres), an infantry figure representing 120 troops, a cavalryman 80 troopers and a cannon is a battery of four to eight guns.
It is designed for 15mm figures (although is adaptable) with large-scale Revolutionary and Napoleonic Wars battles in mind - such as Waterloo - and to be both a simulation and a playable game.
That is a tough ask and there are divided opinions among gamers on whether such a balancing act was managed. Just look through some chat rooms and you see a major rules schism in the gaming community.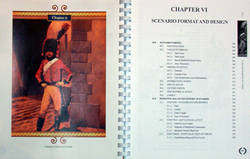 Napoleon's Battles wins a lot of friends on the playability side, but loses some folk on the realism stakes.
Mind you since first hitting wargames tables way back in 1989, Napoleon's Battles has become the No.1 selling way of refighting Napoleonic miniatures battles and being that successful always cops brickbats - no matter how good it is.
For this chap, it really comes down to what you want to get out of a game. Do you want to be a stickler for accuracy down to the last application of crossbelt pipeclay, or would you rather smash the living daylights out of an opponent in an important battle?
2500 Commanders rated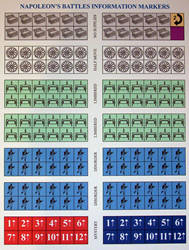 The second edition of Napoleon's Battles is being published by Five Forks and the original designers Craig Taylor and Robert Coggins have revised the system, tweaking some of the rules and adding in an enormous amount of new reference material.
There has been a massive boost in the number of generals and the list of their rated abilities so now you can look through more than 2500 of the leading soldiers of the time and - if nothing else - you can either agree or disagree with how the designers have rated your favourite leader.
This is fun - although I can only imagine Baron de Marbot rolling in his grave after only copping an average rating (deserved though that may be), and there would be more than a few newly raised eyebrows at Robert Craufurd being given an excellent mark.
Troops Re-Evaluated
And Taylor and Coggins have used recent information to re-evaluate some of the units taking part in the battles between 1792 and 1815.
This includes the artillery and now the ratings reflect nation's big guns, training and even powder quality. The infantry changes see the Dutch Belgians becoming slightly better, while the Brunswickers lose a few points.
All up there are ratings for more than 350 combat units from 14 countries and each is given one of 13 different levels of capability.
Excellent Look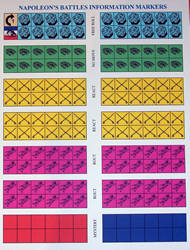 The rule book is large, comprehensive and takes one heck of a lot of reading, but seems to cover every aspect you need to know to take charge of a Napoleonic clash. If you have played boardgames then the layout will be very familiar.
I have to say Five Forks has done a superb job with the presentation of the rules and the meanings of the counters are clear and distinctive, although they come on cardstock rather than being die-cut counters. Those will be available from Five Forks at a later stage - at a "moderate charge" according to the company. It would have been nice for them to have been included in the package.
The layout of the rules book is very clean and finding your way around the 180-page folder is a breeze. The cost of the 2nd edition Napoleon's Battles is $US40.
Handy Advice for beginners
For newcomers to table-top miniatures wargaming, Five Forks includes an introduction to the hobby that explains everything you need to know about gaming.
It also gives some fine advice on creating your own miniatures army, how to paint it, as well as hints on making terrain to boost the look and feel of the battles.
Each right-hand page of the folder has a quote from Napoleon Bonaparte and there are eight colour images from renowned battle artist Keith Rocco.
Main Rule Changes
But most of all gamers will want to know what the main rules changes are - so here they are:
A simplified wheeling movement in the standard game (The original rule has been moved to the Optional Rules).
Close formation changes
Emergency horse-artillery unlimbering
Liar's Reserves where you can do hidden movement without record keeping
Artillery crews will be able to rout on their guns if their battery is not occupied
Alternating Combat Order
Expanded supply rules that even allows for looting
Cossacks can withdraw if faced by attacking formed cavalry
Alternate Combat Order of Choice: The choice of the order in which combats are resolved. (In the First Edition, the phasing player determined the order of combat resolution. The new optional rule allows for the alternate resolution of combats from the phasing to the non-phasing player.)
Expanded Rules for Supply: This includes expanded rules for supply lines, a rule for looting and modifiers to allow for problems with discipline.
The Battles
Some of the classic struggles you can fight with Napoleon's Battles (2nd) are Valmy, Marengo, Auerstadt, Talavera, Albuera, Lutzen and Craonne, with new and revised scenarios for:
Novi (August 15, 1799): Russian general Suvarov's victory over the French in northern Italy.
Raab (June 14, 1809): Eugene Beauharnais' victory over Austria's Archduke John.
Gorodetschna (August 12, 1812): Napoleon's Austrian and Saxon allies take on the Russians.
Quatre Bras (June 16, 1815): Wellington versus Ney at the crossroads that can decide the 100 Days' Campaign.
Waterloo (June 18, 1815): Wellington and Blucher line up against Napoleon in the deciding battle of the Napoleonic Wars. There have been changes to the order of battle, arrival times of units and a re-evaluation of many of the units.


The rules book includes:
Standard Rules and Optional Rules with numbered paragraphs for easy reference.
Over 350 combat units rated in 13 categories.
A points system allowing gamers to design their own scenarios.
Ratings for over 2500 generals who served from 1792 to 1815, each rated each in four key command categories.
Scenario design toolkit for gamers.
Basic information on how to paint and assemble a miniature army and terrain.
A review of all the major and minor armies of the era.
Contained within the set are:
168 Markers.
14 Army Cards for the major and minor European Powers.
Combat and Movement charts and tables.
Artillery template and Manouevre template.
Spread Artillery Fire template.
Brigade Skirmish template.
Time Record Chart.
Conclusion
The type of battle you want to fight - tactical versus more strategic, or realistic versus more playable - will determine whether or not you want to play Napoleon's Battles' rules.
If you have the first edition then the revised version will be a must buy.
If you are a newcomer to miniatures then it very much comes down to the time you want to spend fighting a battle, the complexity of the rules you want to learn, the size of the area you have to fight in and the overall grand look of the miniatures clash.
For mine, taking the field with an affordable 15mm army and being able to fight the large battles is a bonus that gives Napoleon's Battles a huge advantage in my eyes.