Napoleon's Dog 3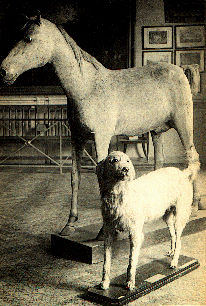 Hey, don't say we are not diligent. Some kind soul has emailed us in a picture of ... yes, you guessed it ... Napoleon's dog.
Well, we hope it is - as we've had more leads on this than the ones hooking up our computer system!
Anyway, here's the creature in question and it can be found at the Musée de l'Armée in Paris.
And, thanks to Oriel Caine and Wes Westfall we may be able to name the mutt. They have done themselves proud - and eased our major headache - by giving us this info.
A book called Pauline Borghese by Antonio Spinosa published in French by Tallandier in 1986 says Napoleon's dog on Elba was called Lauro.
Thank you guys, very very much!
NB: And Elizabeth Sargeant has sent us this info about Napoleon's dog on St Helena.
"When Napoleon was on St. Helena he had a black and white dog called 'Sambo' - it had its ears cut off, in the Chinese style, and looked more like a seal. After Napoleon's death in May 1821 the dog was taken back to Europe by Countess Bertrand and her children."