Paul Deacon hails from the historic port of Dartmouth in Devon; a wharf-side world of bollards, warps and sailing ships and he served in the Merchant Navy tramping between the ports of Europe.
At 28 Paul was Master of his first vessel and for years experienced the storm-bound coasts of Brittany & Biscay frequently voyaging to St Malo, Brest, LíOrient, Nantes, La Rocelle, Rochefort and down to the north coast of Spain.
From Ferrol in North Spain to the Straits of Gibraltar and into the Mediterranean Paul sailed through waters that once witnessed dramatic naval battles throughout the Napoleonic wars.
Further north around the British Isles Paul traversed every stretch of coast with its bays, headlands, rivers and ports where French and American vessels harassed British coastal shipping throughout the Napoleonic wars and the war of 1812.
Paul was also familiar with the continental ports and coasts of Netherlands, Germany and Denmark, places that figured greatly in this historic period.
After leaving the Merchant Navy, Paul served as an officer at Dartmoor Prison in Devon for 11 years.
The prison was purpose built to house French & American prisoners of war from 1809 to 1814 and within its walls thousands of prisoners lived in squalid conditions and many died.
Paul absorbed the early history of Dartmoor prison matching it to his artistic endeavours and development via paintings for historic publications. (Illustrator for Prisoner of War at Dartmoor McFarland & Co, Inc., Publishers. USA. 2013).
Paulís diverse work experiences in unique circumstances and locations have given him a rare insight of locations that few artists can equal.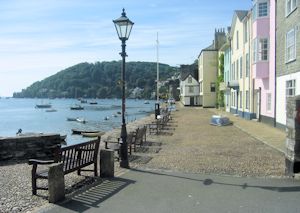 To own one of his paintings is to have a visual reference to a moment in history.
Behind each painting there is a story and its complexity demands the utmost concentration and skill to perfect it on canvas.
Paul particularly absorbed seafaring and his paintings carry a distinct essence of his voyaging.
Paul works from his studio in Auckland utilising skills, memories and reference material to produce high quality marine paintings, he is recognised as one of New Zealandís leading marine artists and is a member of the internationally recognised Australian Society of Marine Artists (ASMA) and the New Zealand Academy of Fine Art (NZAFA).
THE ART
Paul utilises quality paints, brushes, canvas, linen and boards to lay his work on.
Over several days he draws the scene together by layering in skies and seas to create atmosphere and texture on the canvas, the detailed work of the vessels has a planned place and is expertly added onto the completed background.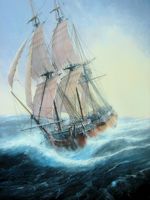 Fine glazes are added to the painting to create depth & shadow, the painting is allowed to dry and a finishing glaze added to enhance and protect its surface.
Each original painting is a testimony to Paulís integral experiences, knowledge, skill and expertise.
To commission a painting you can contact Paul throughhis facebook page www.facebook.com/pauldeaconart, or call him in Auckland (64) 9 533 4431 or 021 259 0646.
Discuss with Paul what you wish to commission: A commissioned painting is a unique creation to grace your chosen space for a lifetime.
A commissioned painting is an exceptional heirloom to pass on for generations.
A commissioned painting can be a unique gift given to those with a love of history and the sea.