Jena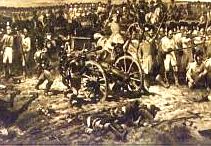 The battle of Jena saw a massively outnumbered Prussian force crushed by the major portion of the French army under the direct command of Napoleon Bonaparte.
Jena is a terrific site to visit as little has changed in the almost two centuries since it was fought.
The battlefield is just to the west of the city and there is a first-class battle museum to visit at Cospeda. The museum, where it is said Bonaparte stayed, houses military items of interest and a useful electronic map of the clash.
There are many excellent viewing positions, particularly on the Windknollen Ridge and many small villages where important parts of the fighting occurred.
80 km (50 miles) south-west of Leipzig. 1 hour 15 minutes drive.
40 km (25 miles) south of Auerstadt. 38 minute drive.
35 km (22 miles) east of Erfurt. 42 minutes drive.
---
Auerstadt
Auerstadt was one of the great feats of French arms and occurred on the same day as Jena. It came about when Marshal Davout and his legendary III Corps ran into the main Prussian army under King Frederick William III.
Taking a defensive stand near the village of Hassenhausen, Davout absorbed the Prussian attacks and then when he felt the moment was right the Iron Marshal ordered his men on to the attack routing an army almost three times the size of his own corps.
The battlefield is very well preserved and at Hassenhausen there is an excellent vantage point on a large grassy mound, where Davout himself was positioned.
The original Prussian position is near the village of Spielberg.
Auerstadt itself offers a memorial to the Prussian troops.
58 km (36 miles) south-west of Leipzig. 55 minute drive.
40 km (25 miles) north of Jena. 38 minute drive.
61 km (38 miles) east of Erfurt. 1 hour drive.
---
Lutzen
A hard-fought battle involving more than 200,000 men, Lutzen was a French victory over a Russo-Prussian army.
Lutzen is close to Leipzig and the battlefield is pretty much as it was in 1813, although a mining operation has marred its southernmost side.
There is a diorama of the battle at a museum in Grossgorschen and a number of memorials - including some interesting ones for low-ranking individual soldiers - in nearby villages.
22 km (14 miles) south-west of Leipzig. 25 minute drive.
61 km (38 miles) north-east of Jena. 55 minute drive.
37 km (23 miles) west of Auerstadt. 34 minute drive.
---
Leipzig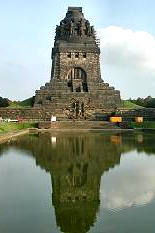 The largest monument commemorating the battle of Leipzig is the 91-metre centennial tower, built as a memorial to the victory of the Allied nations against Napoleon Bonaparte in 1813.
The structure is so large the sculpted guards are 12 metres high, but this gigantic size may be apt when you consider that 600,000 men took part in the fighting.
You can get a marvellous view of the surrounding area from the monument's platform, however, there are some 500 steps to navigate and you'll need to be pretty fit.
Another major memorial is the Russian Church, built to honour the 22,500 soldiers of the Tsar killed during the battle.
There are also close-by memorials in Wachau, Liebertkolwitz, Kolmberg, Probstheida, Dolitz, Mockern and Schoonefeld.
80 km (50 miles) north-east of Jena. 1 hour 15 minutes drive.
58 km (36 miles) north-east of Auerstadt. 55 minute drive.
---
Other 1813 Battlefields
Markers and memorials of various conditions feature at most of the other 1813 Campaign battlefields, including Grossbeeren and Dennewitz, with the more "weathered" being set down for restoration.
---
If you are touring New Zealand then check out TikiTouring for tours and accommodation deals.