Tours: Oporto
Click here for Oporto hotels
And here for tours
Figueira da Foz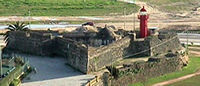 Hotels in Figueira da Foz
Nearby is Mondego Bay, the landing place of the Duke of Wellington's British army in 1808. Close to the disembarkation area is Santa Catarina, a small stone fort seized from the French by Portuguese students, still exists in Figueira da Foz.

138 km (86 miles) south of Oporto. 1 hour 48 minutes drive.
---
Obidos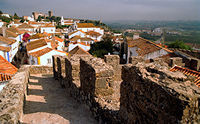 Hotels in Obidos
A small picturesque town that was the scene of the first skirmish between British and French forces in the Iberian Peninsula. A castle dominates the area.
216 km (135 miles) south of Oporto. 2 hour 10 minute drive.
---
Rolica
The first major battle of the Duke of Wellington's career in Portugal occurred at Rolica where the village has pretty much kept its old character.
The terrain is unchanged and following the battle on foot is not difficult.
There is a large tile map of the battle and a monument to Colonel Lake of the 29th Regiment.
232 km (145 miles) south of Oporto. 2 hour 20 minute drive.
---
Vimiero
A large battlefield, the site of Vimeiro has been developed, however key places remain little changed.
There is a monument on Vimiero Hill that offers terrific views across the area of the struggle that ended the French occupation of Portugal.
255 km (160 miles) south of Oporto. 2 hours 45 minute drive.
---
Bussaco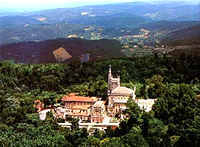 A battle fought on rugged terrain just north of Coimbra, Bussaco is an easy visit for those interested in one of the most one-sided clashes of the Peninsular War.
Many signs of a battle having been fought there still exist and there is a museum and the structure that acted as Massena's headquarters to visit.
104 kilometres (65 miles) south of Oporto. 1 hour 20 minute drive.
---
Corunna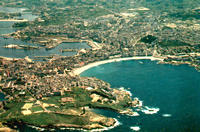 Despite the fact that the city has grown considerably, the battlefield remains largely unchanged from the times of the momentous British victory over the French and the army's subsequent evacuation.
The village of Elvina, scene of long and hard fighting, has probably not changed at all.
283 km (177 miles) north of Oporto. 3 hour 26 minutes drive.
---
Oporto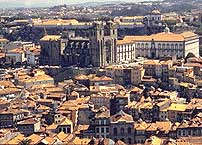 Hotels in Oporto
One of the Duke of Wellington's most stunning military victories as the British army crossed the Douro River under the noses of large French forces and captured the important city.
312 km (195 miles) north of Lisbon. 3 hours 17 minute drive.
---