REVIEW
HORNBLOWER:
Loyalty
By Richard Moore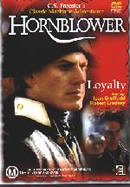 Loyalty, the seventh Hornblower movie, is set in 1803 with France and Britain at peace.
Our Horatio has been reduced to the rank of lieutenant and is forced to make money at the card tables.
He meets Lieutenant Bush in Portsmouth and Bush notices that Hornblower has an admirer - Maria (Julia Sawalha), the daughter of his landlady Mrs Mason.
With war clouds again forming Admiral Pellew recalls Hornblower, reconfirms his promotion to Commander, and sends him off as captain of the sloop Hotspur on a patrol off the coast of France.
One of his tasks is to take a French émigré, Major Côtard, to meet opposition forces in France.
To his shock Hornblower discovers preparations for an invasion force of 50,000 men and when he hears the news Pellew orders a first-strike on the once-again-hostile French fleet.
Hornblower's mission is to destroy a shore battery, but his efforts are spoiled by his betrayal by a high-level traitor.
Our lad is not imprisoned for long as he escapes from his prison cell and his return allows Pellew to launch his attack.
For those who want to know Loyalty and the eighth movie Duty are based on the CS Forester novel Hornblower and the Hotspur.
New cast members are Julia Sawalha as Maria, Christian Coulson as Midshipman Hammond, Tony Haygarth (who also appeared in the Sharpe series) as Prowse, Lorcan Cranitch is Wolfe, Greg Wise is playing Cotard, Jonathan Forbes plays Midshipman Orrock and Barbara Flynn is Mrs Mason.
The vessel Earl of Pembroke is the Hotspur.